In 1998, we moved from our location near Wilton High School to the home we're in now. Our house was originally built in 1920 as a side-hall colonial, and is now centered on 7.22 acres. The previous owners extensively expanded and remodeled in the late 80's/early 90's. We're the fourth owners.

The history of the house makes it special...it was first built and owned by a family member of one of the Gimbel brothers, owners of the famous department store featured in Miracle On 34th Street. It originally served as his country house, screened around the entire perimeter. During Prohibition, the house was converted into Wilton's speakeasy! In fact, while the floors have all been reworked, you can still see where an "escape hatch" once served the patrons from what is now the living room into the basement.

Click on each of the photos below to see full size images.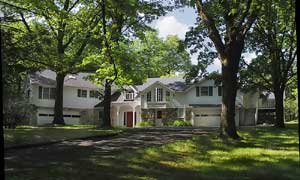 :: Click the photo for a larger view ::